Journey to the Heart: Finding Inner Peace
With LSR Team
September 16 - 22, 2019
Your heart is where your divine wisdom resides. Your connection to the infinite is within. When you connect with your heart, your journey becomes illuminated. LearnShakti Naam Yoga and Heart Math principals as ways to go deeper into your heart space. These methods, incorporated in your Life Source experience, help to powerfully reconnect you to Who You Really Are.
Learn and experience Shakti Naam yoga and HeartMath principles as ways to go deeper into your heart space, where dreams, love, source guide. These methods, incorporated in our wonderful Signature Life Source Retreat experiences, help to powerfully reconnect us with who we really are in our journey to the heart.
Shakti is the universal creative power, and Naam the cosmic sound current vibrating through all of creation. Shakti Naam is an ancient yogic science virtually unknown to those practicing yoga in the West. It looks and feels different from other forms of yoga, as it combines breath work, acupressure, postures, mudras, mantras, and meditations. Shakti Naam yoga causes the invisible soul force that is responsible for health, success, and spiritual growth to increase within the whole body and to expand. It works to open the heart, achieve a deep meditative space, and a merging with the invisible life force.
What's Included
Each of our five Signature Retreats includes the following:
7 days/6 nights luxurious accommodations at a 5-star property
All meals, snacks, coffee, teas: healthy, delicious, locally sourced, freshly prepared, primarily gluten, dairy, & sugar free. (see custom menu options)
Greeting of the Sun
Morning Blessing with our Shaman
Life-enhancing workshops and seminars by world renowned authors, teachers & local leaders
Daily yoga
Excursions into the ancient Mayan culture (bike ride to the Mayan ruins, Mayan temazcal, swim in a sacred cenote)
Healing experiences (Sound Healing, Mayan Clay ceremony, Heart Opening Circle, Fishbowl
Fitness classes (African Dance with live drumming, International Dance, beach walk/run)
Sunset sharing circle
Nighttime activities (drum circles, dancing, dinner out, music, baby turtle exploring, or a night on the town)
We also schedule free time into each day in case you want a massage; a one-on-one session with one of our amazing instructors; to meet with our doctor of integrative medicine; to watch the stars, the moon, the sunrise; to go for a swim, walk, bike ride, shop; or just relax and read a book under a palm tree.
Example "Journey to the Heart" Week
Day 1
3:00 pm – Arrivals/Check-in
5:30 pm – Shakti Naam Yoga
7:00 pm – Open Heart Ceremony
8:00 pm – Welcome Dinner
9:00 pm – Yoga Nidra Meditation
Day 2
6:20 am – Coffee/Tea/Fruit
6:30 am – Greet the Sun (with Mayan Elder)
7:30 am – Beach Run/Walk
8:00 am – Shakti Naam Yoga
9:15 am – Breakfast
10:00 am – HeartMath Coherence Workshop
12:30 pm – Lunch
2:00 pm – Mayan Clay beach experience
5:45 pm – Snack & Beach Walk
6:00 pm – Mayan Temazcal Ceremony
8:00 pm – Raw Love Affair Dinner
Day 3
6:20 am – Coffee/Tea/Fruit
6:30 am – Greet the Sun
7:30 am – Beach Run/Walk
8:00 am – Shakti Naam Yoga
9:15 am – Breakfast
10:00 am – Change your Attitude Change your Life-David's Story
12:00 pm – Lunch
2:00 pm – Be Free Time
5:00 pm – Seeds, Cymatics & Mantra Workshop
6:00 pm – Dinner
7:00 pm – Sound Healing Journey
Day 4
6:20 am – Coffee/Tea/Fruit
6:30 am – Greet the Sun
7:30 am – Beach Run/Walk
8:00 am – Shakti Naam Yoga
9:00 am – Breakfast
10:00 am – Bike to Tulum Mayan Ruins
1:00 pm – Lunch
2:00 pm – Be Free Time
4:00 pm – Additional Yoga
6:00 pm – Beach Walk to Ahau
6:30 pm – Sunset Sharing Circle
7:00 pm – Dinner at Ahau
Day 5
6:20 am – Coffee/Tea/Fruit
6:30 am – Greet the Sun
7:30 am – Beach Run/Walk
8:00 am – Shakti Naam Yoga
9:00 am – Breakfast
10:00 am – HeartMath-Relational Energetics
12:00 pm – Sacred Cenote swim and Town Excursion
2:30 pm – Be Free (Time or Massage)
4:00 pm – Additional Yoga
6:30 pm – Dinner
8:30 pm – Music Comes Alive
Day 6
6:20 am – Coffee/Tea/Fruit
6:30 am – Greet the Sun
7:30 am – Beach Run/Walk
8:00 am – Shakti Naam Yoga
9:00 am – Breakfast
10:30 am – Chakras & Chinese Meridians
12:00 pm – Lunch
3:00 pm – International Dance Fitness Class
5:00 pm – Fishbowl
7:00 pm – Farewell Dinner
Day 7
6:20 am – Coffee/Tea/Fruit
6:30 am – Greet the Sun
7:30 am – Beach Run/Walk
8:00 am – Shakti Naam Yoga
9:00 am – Breakfast
10:00 am – Beach Sharing Circle
12:00 pm – Departures
Teacher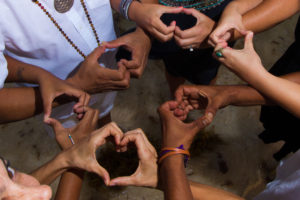 LSR Team
You will meet our team of passionate healers and see straightaway that they are dedicated to making your experience with LifeSource Retreats first-in-class. We're made up of a local group who guide your retreat experience year-round, and an international group of spiritual guides, therapists, healers, and wellness experts who travel to Tulum assist us during certain retreats and activities. Find out more about our team here: https://lifesourceretreats.com/meet-our-team/
Learn more about LSR Team