Live Life on Purpose: The Law of Attraction
With Avelino May Xul, Michele Clark-Dougherty, Gloria Medellín, Jana Fleming and LSR Team
February 20 - 25, 2017
We are pleased and blessed to have special guest Emotional Healing Teacher & Yoga & Meditation Instructor, Jana Fleming. Join us for this special retreat, that's also our most popular!  See President's Day Shared "Run of the House" Special offer
What you focus on expands.  If you're reading these words about this exact retreat, you're clearly a powerful manifestor.  You Higher Self is guiding you and is likely seeking reminders.  Thoughts become things.  Like energy attracts like energy.  No one is in your head thinking your thoughts for you.   The average person thinks approximately 60,000 thoughts per day… but usually they are the same thoughts over and over!  The truth is, you get to choose what you think.  With practice, tools and this information, you can learn to retrain your habits of thought and be a deliberate creator of the life you want to live.  Discover the principles and understand how "The Law of Attraction" really works and you too can live YOUR life on purpose.
From "affirmations" to "vision boards," from "gratitude journals" to "rampages of appreciation," this retreat will help you remember what your Inner Self already knows.  Retreat attendees are offered tools & exercises to take home and implement into your daily life — Live Your Life on Purpose.  This is our most popular retreat… it's just the beginning.  Based on over 25 years embracing these principles and by implementing studies from around the world, our Life Source Retreats founder co-leads this retreat herself, in collaboration with our powerful Shaman Healer and our Life Source Team!  Teachings are primarily based on The Seth Material as well as the teachings of  Abraham – Hicks.  Our beautiful Tulum location adds a "turbo-boost" to this experience … there is an energetic quickening that occurs here… so what may take 6 months to understand and implement, can often be accomplished in only 5 or 6 days here.
It is our goal to assist you in remembering that all you need is, and always has been, deep inside of you.  YOU are your own true "Guru"!
What's Included
Each of our Life Source "Signature Retreats" include:
Luxurious accommodations at a 5-star property on the powder white Caribbean sands
All meals, snacks, coffee, teas: healthy, delicious, locally sourced, freshly prepared, primarily gluten, dairy, & sugar free
Greeting of the Sun Meditations
Life-enhancing workshops and experiences
Daily yoga
Excursions into the ancient Mayan culture (could include – Mayan ruins, temazcal,  underground cenote)
Healing experiences (could include – Sound Healing Journey, Mayan Clay ceremony, Heart Opening Circle, Fishbowl)
Sunset sharing circles
Nighttime activities (could include drum circles, dancing, dinner out, music, baby turtle exploring, inspirational films or a night on the town)
Free Wifi and A/C
Opportunities to stay connected long after the retreat is over
We incorporate "Be Free" time into each day so you book services from our Spa & Beyond menu, such as a Private Healing Session with our Shaman, a one-on-one session with one of our instructors, an appointment with our doctor of integrative medicine, a massage from one the local therapists etc etc.  You can also swim in the sea, take a walk, bike ride, shop, or just relax and read a book under a palm tree.  This is YOUR RETREAT!
Rates do NOT include:  Gratuities, Airfare, Ground Transport, Private Sessions or other things not listed on the retreat schedule
Everything is simply an INVITATION… to Relax, Remember, and Rejoice!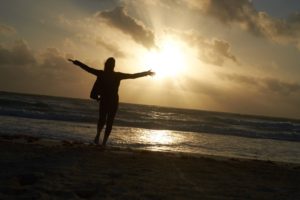 This week is about you treating yourself right so that you can return home with a renewed sense of ease, warmth, and radiance.
Private
Oceanfront Suite
 $4400 SOLD OUT
$3300 each for shared SOLD OUT
Oceanview Suite
$4100
$2900 each for shared
Garden Villa
$3700 SOLD OUT
$2600 each for shared SOLD OUT
Family Villa
(sleeps 4)
$3800 SOLD OUT
$2700 queen SOLD OUT
/ $2400 pp for bunk beds SOLD OUT
Garden Apartment
$3700
$2700 king
/ $2400 twin bed
Run of House Shared
$2500 Shared Room with another person, room type TBD have your own bed

which could be a single, double,  king, garden or ocean views based on avails
All rates listed are subject to a 21% taxes and  services.  Final totals shown at booking checkout.
Private occupancy allows one retreat participant per room. If you select Private occupancy and two participants, you will be requesting to book two private rooms. You may share a private room with someone who is not participating in the retreat, such as a friend or spouse.
If you select Shared occupancy, you will be requesting to share a room with another participant. Please specify roommate requests and if you want a king or two double beds at booking checkout.
Each room except the Family Villa sleeps up to 2. The Family Villa sleeps up to 4. To book 3–4 people in the Family Villa, select Shared > Family Villa Queen > 2 participants, then Shared > Family Villa Bunks > 1–2 participants.
If you select Run of House, you will be in a shared room with a new friend, but the exact room and bedding type would be determined the day of arrival, based on availability.  You could be in a Family Suite twin bunk, or an Oceanview Delux, or anywhere in between.
Please read our terms and cancellation policy carefully before booking. Still have questions? Read the FAQ or contact us.
Teachers